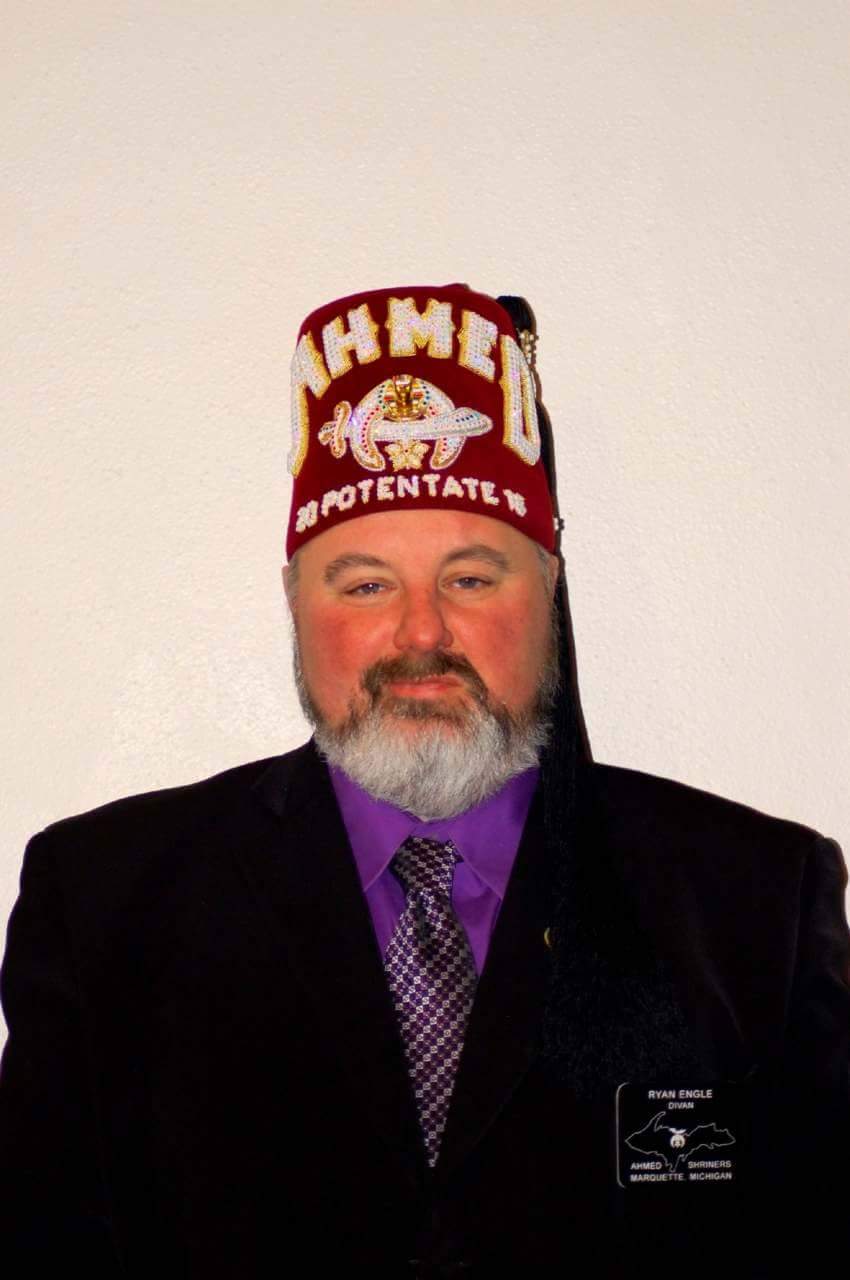 Ryan Engle was born January 28,1975, in Marquette, MI. He graduated from Marquette Senior High School in 1993 and the Institute Of Natural Therapies in 1995. In 1996 he moved to lower Michigan and started his business as a massage therapist for many years. Ryan left that business to manage the Lakeview Community Wellness Center in 2005 and helped change the financial direction over the four years that he was there. In 2009 Ryan and his family moved back up to Marquette and he returned to NMU. He went through the Construction Management School and graduated in the winter of 2012. Ryan worked at Michigan Energy Options for two years before starting at the Upper Peninsula Masonic Center.
Ryan's Masonic journey started as a young child helping his grandfather clown in parades across the U.P. Ryan joined DeMolay at 13 and was Master Councilor at 16. Ryan left the Masonic family for many years while he was downstate but when he returned to Marquette in 2009 he started talking to his grandpa and realized that Masonry was needed in his life. Ryan joined both the Shrine and Masonry during an all degree day early in 2010. It was a whirlwind day of knowledge that he is still trying to understand every day. Ryan continued his Masonic journey by joining the Scottish Rite in 2015 and the York Rite in 2016. These were great additions to his journey. His brother joined the Masons in 2015 and the Shrine the same year. It was a great day for his grandfather to see both of his grandsons follow in his footsteps. Now after the passing of his grandfather his brother and he continue to carry the torch.
Ryan put his own clown makeup on in 2010 for the first time at the Marquette Shrine Circus and did his first parade as "Pappy" at the Fourth of July parade in 105 degree heat. Ryan would have to say if he had known where the journey was going to take him, he would have paid more attention as he fell in love with the Shrine and clowning. He is not the greatest clown in the world but he enjoys seeing the children laugh and the smiles on the adults faces when they see the funny clowns. There is no better feeling in the world than when a child says, "You helped me walk."
Every day he looks forward to being a Mason and a Shriner as he tries to remember that we are here to better ourselves and in doing so help the world be a better place.