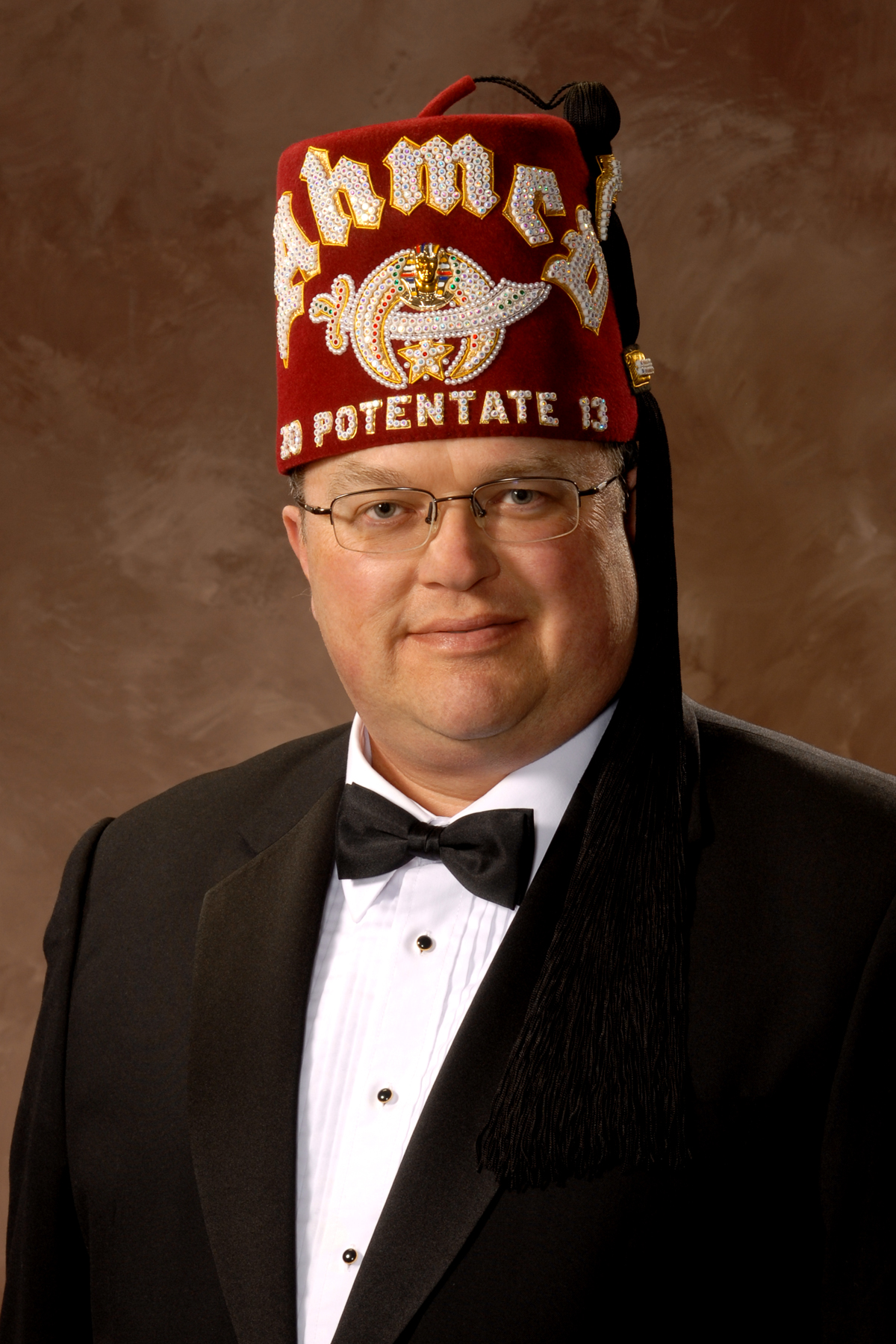 Potentate Mike Hill was born in Marquette, Michigan, on April 19, 1958, the son of Ronald (Past Potentate) and Ruth Hill. On June 15, 1985, he married the former Joan Berglund, also of Marquette, Michigan. Mike and Joan have two grown children - Melissa, a Pharmacist at Marquette General Hospital, and Jon, an accounting major at Northern Michigan University.
Potentate Hill is a graduate of Marquette Senior High School and Northern Michigan University. He is a Certified Public Accountant, and a shareholder in the firm of Kroncich, Hill & Associates, P.C. in Marquette. He is a member of the American Institute of CPAs and the Michigan Association of CPAs, and is a Past President of the U.P. Chapter of the MACPA.
Mike has been an active member of Marquette Lodge #101, the Scottish Rite Valley of Marquette, and Ahmed Shriners since 1992. He was appointed to the officer line in Marquette Lodge at his first regular meeting and progressed quickly through the moving line, serving as Worshipful Master in 1997. After a couple of years as a Past Master, he was talked into serving a one year term as the Lodge's Treasurer. He was recently installed for the 14th year of that one year term. Mike also maintains the Lodge's web site, and the UP Masons Yahoo Groups e-mail list.
In 2010 Mike was elected by District 3 as its Board of General Purposes Representative, a position he continues to serve in today. He is currently a member of the BGP's Legislation Committee. Mike was honored by both his Lodge and District as Mason of the Year in 2002.
Similarly Mike was elected to the Lake Superior Council Princes of Jerusalem officer line in the Scottish Rite in 1992, serving as Sovereign Prince from 1996 to 1998. He has been the Valley's Treasurer since 2004, has been honored with the Valley's Past Presiding Officer Award and the Michigan Council of Deliberation's Meritorious Service Award.
In the Shrine, Potentate Hill was first appointed to the Divan as the Captain of the Guard for 2006 by now Past Potentate Jake Hayrynen. Mike is a member of the Hillbillies, Li'l Truckers, Ritualistic Divan: Tri-City Shrine Club, Keweenaw-Bay Shrine Club and Upper Peninsula Court 180 Royal Order of Jesters.
In addition Mike is a member of Messiah Lutheran Church, the KI Sawyer Square & Compass Club, Hiram Investment Club, NMU Alumni Association and the Marquette Masonic Golf League. He also serves on the Board of Directors of the Marquette Electricians Midget AAA Hockey Team.